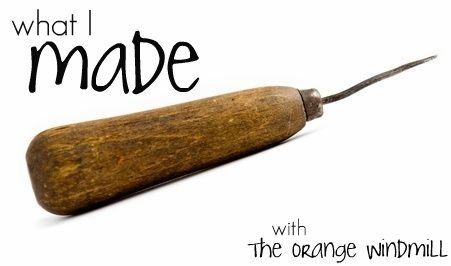 First of all, this was my first week of sending out emails to those who linked-up last week. And tell me, did you appreciate the reminder? or was it just annoying to get yet another email clogging your inbox? Let me know!
On Saturday, Jeff, me and the kids walked down our street to the Ottawa Street Sale - an annual sidewalk sale; there are vendors, truck stops (like Gorilla Cheese and Sweetness Bakery), musicians, and most of the shops spill out onto the sidewalk with some incredible deals. I found a couple of great deals, and one will be in my upcoming series of handmade gifts - you won't want to miss that!
I've also been working like crazy to build up my inventory for the Made by Hand craft sale at the end of the month - I can't wait! Here is one of my most recent journals, made last night:
If you are linking up,
please read the Rules of the House before doing so:
~ If you take part in today's link up, you will go on a list of participants and receive an e-mail from me (from the address shirley[at]theorangewindmill[dot]ca) when the next link up party is underway.
~ If you like Trees.Hides. enough to link up, I ask that you follow too. There are several different ways to follow in the sidebar on the right.
~ Please don't link and run. Be kind and check out each other's links. It's all about supporting each other after all.
~ Will you share a link to the party? It benefits us all--- blog, tweet, facebook, share on your etsy team if you're on one, etc. If you blog and are so inclined to grab a button (which you'll find at the beginning of this post - just copy the text in the text box) and feature it on your blog, that would be awesome. Everyone is welcome here, so be sure to tell your friends.
So are you ready??!?